You Get What You Pay For!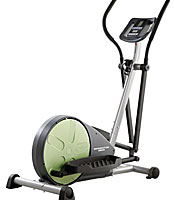 In a past life I worked for a fitness equipment company that made fairly decent elliptical trainers.  So when I first started reviewing ellipticals I had a snobbish attitude that no one should purchase a cross training machine for under $1,000.
However, I began to realize that there are huge number of people who want to lose weight and get in shape, but a $1,000 price tag may prevent them from buying any fitness equipment.  Furthermore, over that last several years budget elliptical trainers have improved in quality, and now I feel confident you can get a decent machine for less than $1,000.
But there is a limit as to how far I will go in recommending a budget machine, and Weslo elliptical trainers reach that limit.
There is only one reason you would want to purchase a Weslo elliptical trainer.  You only have $300 to spend, and if you have to spend more you won't get an exercise machine and benefit for the results.  For those that fit into that category, remember, "You get what you pay for."
Weslo elliptical trainers have several problems…
They are built with cheap components.  This is not a fine engineered machine.  And if you use your elliptical trainer regularly parts wear down, and cheap parts break down faster.
Weslo elliptical trainers are very light weight machines.  That means they tend not to be very stable, especially when used by overweight people.  Which is ironic, since mostly overweight people buy Weslo ellipticals.  When I tested this model it was easy to get it to rock back and forth.
Now Weslo is built by Icon Fitness, which also builds some very good budget and moderate priced brands like NordicTrack, ProForm and Epic.  In fact, they offer some excellent values in the sub $1,500 price range.
Our Review – Weslo Elliptical Trainers
If you can afford it, spend more money and get an elliptical trainer that is built to last.  Furthermore, you will find the motion and the elliptical stride to be more comfortable and rewarding.  If you can't it, consider buying and extended warranty.  Welso elliptical trainers come with a 90-day parts and labor warranty.  If it breaks after 90-days and you don't have the additional coverage you might as well throw it away, or use it for a clothe rack.
Weslo Elliptical Trainer Reviews: