The pandemic brought us face-to-face with our lifestyles and physical and mental health. Many of us realize that we cannot afford to ignore our fitness anymore. We have also discovered that at-home workouts are a convenient and efficient way to get in our daily dose of fitness. Anyone looking for budget-friendly ellipticals has probably come across the Weslo elliptical. These machines are designed for budget-conscious people and recommended for those just starting out on their fitness journey. They have the bare minimum that you could expect from an elliptical.
While this sounds good on paper, if you actually use a Weslo elliptical regularly, you might not be so sure about the whole budget argument anymore. The budget factor makes sense up to a point. After that, you have to question what you are looking for and what you are willing to give up on for a cheaper option.
We checked out the Weslo ellipticals to see what these budget machines have to offer and found that their quality corresponds with their relatively lower price. Given the limited features and the minimal warranty, Weslo may not be your best option. If you are dead-set on paying the least that you can or are looking for a short-term machine, you could consider Weslo ellipticals. Otherwise, budget options from quality brands offer you good features and a comfortable experience.
The Basic Features of Weslo Ellipticals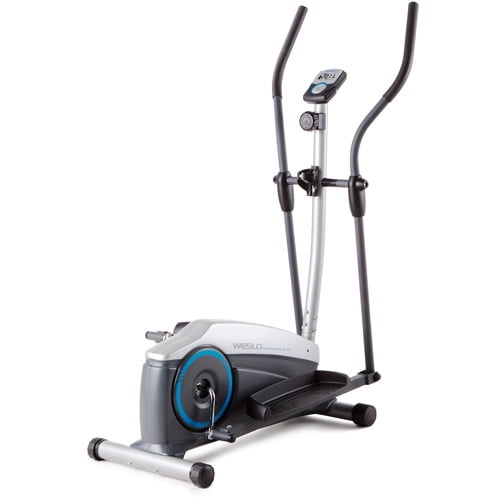 The basic features of Weslo ellipticals are as follows:
The machines have adjustable seats

Screen displays where you can track the distance and keep a count on calories.

They are also easily foldable for convenient storage

They are lightweight and easy to move

They have a heart rate monitor

They offer upper arm workout

These machines do not have advanced features or consoles

Most of their machines come with a 90-day warranty
What to Expect with Weslo Ellipticals?
Weslo ellipticals have a lightweight construction, so they can be shaky and unstable when you use them. They are cheaply made, and this reflects in the quality of the parts, as they tend to wear down faster and don't have the durability or solidity of the better quality makes. Working out on these machines is not a smooth experience.
The machine seems awkward, and it tends to rock a little. You may even feel doubtful about its ability to support your weight. It's not a supportive option, especially for heavier or taller users. It has a maximum of 250 pounds, and the stride is suited for shorter people. They are also noisier than other quality machines and are more prone to breaking down over time. The handlebars, too, are not very comfortable to grip for long.
Weslo Elliptical Models
Weslo elliptical offers rear-drive elliptical trainers. Their most available model is the Weslo Momentum G 3.2. Their elliptical trainers have a shorter stride of 12″ and should be able to withstand a weight of up to 250 pounds. Their machines have a 90-day warranty on parts. The consoles are basic and do not compare with those of more quality elliptical trainers. The models have small LCD screens with basic workout details and Easy Pulse heart rate monitoring. They come with transport wheels, which help in moving them.
Most of the Weslo models don't seem to be available anymore. While their website doesn't seem to be displaying any Weslo models, e-retailers are still selling some of them.
Our Take on Weslo Ellipticals
Weslo elliptical trainers are not built well and are made with low-quality parts. They wear out soon with regular use. The machines lack basic amenities for comfort, like a cooling fan and a holder for a water bottle. The console is limited and does not have any audio or entertainment. There is a minimal warranty of just 90 days on parts and labor.
Even if you're just starting out on your fitness journey, it makes sense to pay attention to the quality of the machine you will be using. Using unsteady and poorly built equipment is not a great idea as a fitness beginner because you are still finding your groove and you risk straining your body. You also want the fitness experience to be more comfortable because you are just starting to develop the habit of fitness.
Many of us are keen to develop fitness as a lifestyle habit these days. Yet, despite the increased awareness, so many of us find it challenging to do so. What prevents us from developing fitness as a regular lifestyle habit and exercising every day? It's not just about motivation. On an everyday level, what makes the difference is how the experience of working out feels or how much it appeals to us at that moment. To encourage yourself to get up and get that workout done, you need to ensure that the workout experience is something that you look forward to and enjoy. It needs to feel like a comfortable and supportive experience so that when you look at your elliptical trainer, you really want to work out. As a beginner, when you're just starting, you're all the more likely to lose motivation or get discouraged if working out is not convenient or if your fitness equipment is not comfortable.
However, at the end of the day, these budget models are on the market for a reason. If cost is simply too much of an issue and you cannot afford to think about other factors, you would do well to consider getting a Weslo elliptical. They are also an option to consider if you are at a stage where you cannot make any long-term commitments to regular workouts on an elliptical and are only prepared for a short-term commitment to working out on the same.
If you will be traveling or staying somewhere for a brief period and are determined to work out in that time, you could go for the Weslo. Otherwise, there are better options for a budget-conscious consumer that don't make you compromise on the essential factors.
Quality Alternatives with Budget-Friendly Ellipticals
Weslo ellipticals are built by Icon Fitness, which is also the maker of NordicTrack and ProForm. NordicTrack and ProForm offer budget-friendly machines that have more durable components and construction. They have great deals and offer you a much better value for your money. What's more, both the brands offer free shipping.
Although they might not be as cheap as Weslo, they offer warranties that are much better than the 90-day warranty offered for Weslo ellipticals. These warranties safeguard your money in the long run and vouch for the machine's quality.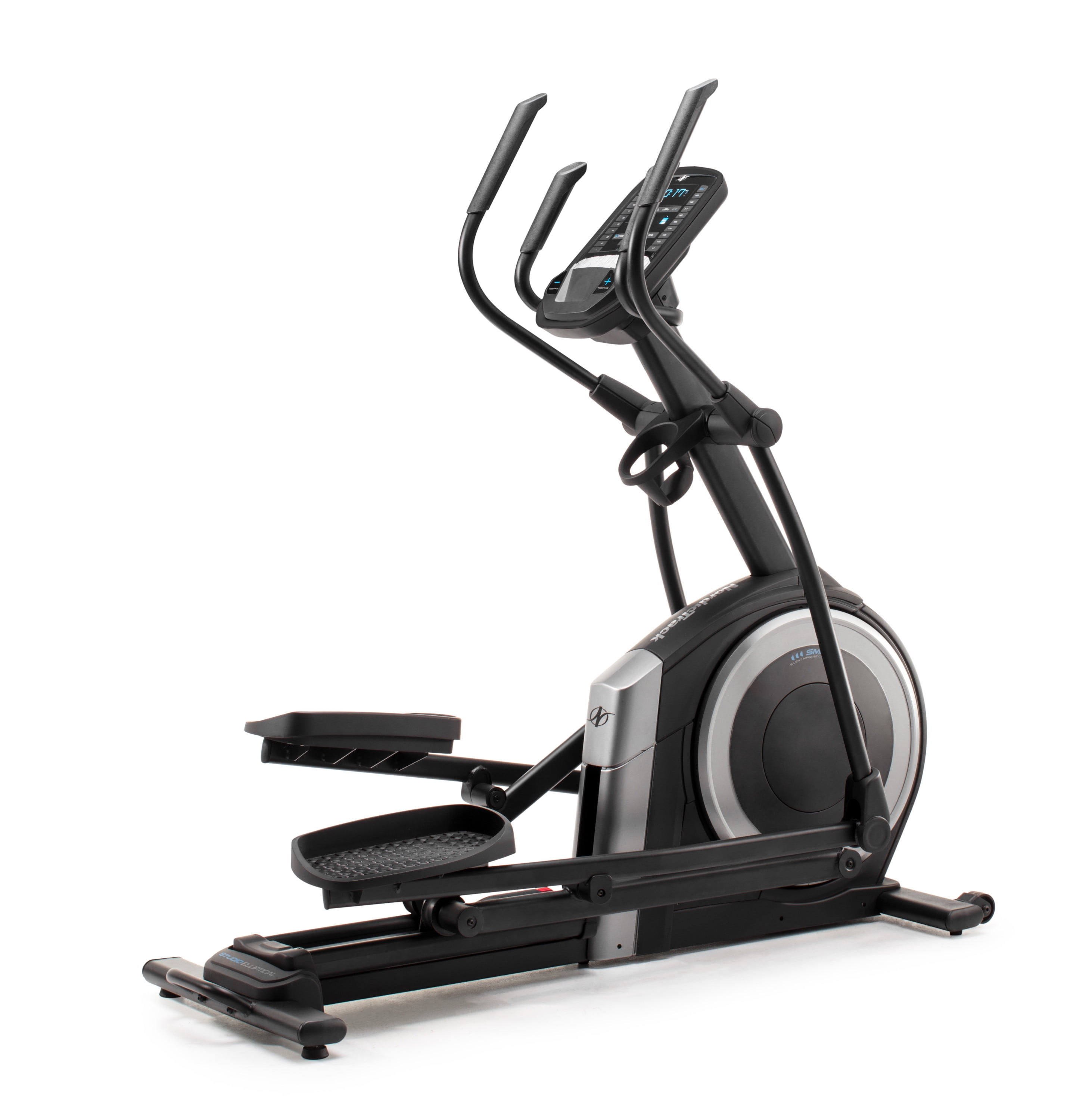 NordicTrack offers a Studio Elliptical amongst its budget options. This is a front-drive elliptical which comes with some really cool features. These include:
A workout fan that keeps things cool

Oversized cushion pedals for maximum comfort

A stride of 17.5″ to 18.7″ that welcomes even the taller fitness enthusiasts and gives you space to stride naturally

20 levels of resistance

Supports user weight of up to 300 pounds

Digitally amplified speakers and a Bluetooth connection
ProForm budget models include the ProForm Hybrid Trainer, which has a 2-in-1 design of a bike and an elliptical, allowing you to transition between the two modes.
An adjustable, oversized, and cushioned seat

Direct streaming of trainer-guided workouts to your tablet or phone

Automatic resistance adjustment as you workout

A library with thousands of workouts
These models offer you comfort, durability, and quality features within a more affordable price range.
A Reliable Alternative: Horizon Fitness
If you want a great, reliable option and a safe bet, consider Horizon Fitness. Horizon Fitness makes its own parts and components for its ellipticals. There are not many fitness brands that do this. This vertical integration of Horizon's manufacturing process is helpful in terms of maintenance and troubleshooting in case there is a problem with the machine functioning or any of its parts.
Horizon also provides a Digital Pass that allows you to save a lot of money on fitness applications like Peleton, Daily Burn, and Studio, all integrated with Horizon ellipticals.
Horizon ellipticals are suitable for taller people, too – they have long and comfortable strides. Since the strides are more natural and less constricting, using these machines makes you feel like you are actually running or brisk walking.
Using fitness equipment to exercise helps you get into the zone and embrace your inner fitness enthusiast. However, poor quality equipment can make exercising feel inconvenient and clumsy. Especially if you are just starting, it is a risky idea to use poor quality equipment because you are all the more prone to injuring or straining yourself. That's why it's so important to have equipment that supports you and provides a steady and stable experience while you push yourself to do your best. Using a poorly constructed elliptical can give you hip and back strain that can be detrimental over time.
Horizon ellipticals are professionally engineered and designed for optimal body positioning. The pedals are positioned to reduce stress on the hips and back.
It offers a great budget model that doesn't compromise on quality – the Ex-59 Elliptical. Despite being a low price model, it's the best selling model. It has simple, intuitive controls and reliable components.
Its features include:
A Bluetooth connection to your device to stream media through speakers

A holder for your device and a USB port

A quick set-up that enables you to start exercising easily

A quality pulley system that promotes smooth motion

Optimum pedal positioning for reduced stress on the hips and back

Lifetime frame warranty
Final Outlook on Weslo Elliptical Trainers
There are better options that are still budget-friendly. NordicTrack and ProForm have great durable models with a reasonably lower cost. Although you may have to pay a little more, it's worth it in the long run because these machines are built to last. There's no point in trying to save a few hundred dollars and then having to shell out much more when your machine breaks down. These brands also offer better warranty protection, which is worth paying for to safeguard your money and peace of mind. Weslo elliptical trainers come with a 90-day warranty for parts and labor. Should it stop functioning after 90-days, your money is down the drain.
What's more, these quality alternatives also ensure that you don't give up on comfort. In our hectic lives these days, it's a feat to just get down to doing that workout and regularly making the time for it. You don't want to make that even harder for yourself by making the workout experience uncomfortable. You want an experience that rewards you for the effort and energy that you are putting in.
However, if cost is a deal-breaker for you, then Weslo ellipticals might still be well worth your consideration.
Fitness is a long-term commitment. But there are scenarios where you may find that you are only ready for a short-term commitment, and you are not sure if you can go beyond. In such cases, you can go for the cheaper budget models like Weslo ellipticals.
Horizon Fitness offers an affordable, comfortable and intuitive model that is a reliable option, irrespective of where you are on your fitness journey. It's a much better value for your money, and the price difference between the Ex-59 model and the Weslo models is not much. If you are looking to make a sensible buy that will not give you cause for regret, it's worth considering the Horizon Fitness budget models.