Good Value for Budget Ellipticals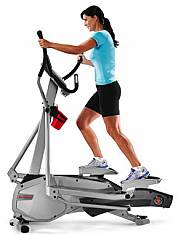 If your budget is limited, but you still want a quality machine, with a smooth elliptical motion, you may want to consider the Schwinn elliptical trainers.
Schwinn offers four models ranging from $499 – $1,000. And one of their models received "Best Buy" ratings from a top consumer rating. In general, I feel the Schwinn ellipticals offer some of the best value in their price range. In particular, I find the Schwinn 430 elliptical to be an excellent buy. Although the upgraded Schwinn 470 also has appeal.
---
Although Schwinn offers some great machines at affordable price points, we do feel there are better machines out there for your money. Here are a few machines we suggest considering instead…
Horizon EX-59 – $599
Horizon 7.0 AE – $999
NordicTrack SpaceSaver SE7i – $1,299
---
I find their models to have a smooth elliptical motion and their machines are relatively quiet, but more important is the fact that these are some of the most durable ellipticals in their price range.
Schwinn Elliptical Trainer Reviews…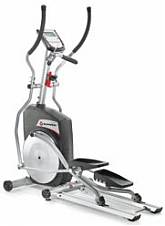 Schwinn 430 — The Schwinn 430 is one of the best values for a budget elliptical trainer. It is a fairly durable machine with a smooth elliptical motion.
It comes with extra long handlebars so it can accommodate users of different size. You can also change the location of your grip and emphasize resistance to different parts of your upper body.
All Schwinn ellipticals have articulating foot pedals designed to angle with the elliptical motion. With stationary pedals your foot has to raise up with the elliptical stride, and can often cause numbness and discomfort.
Schwinn 470 — The Schwinn 470 offers a longer 20″ stride and a adjustable incline feature that allows you to target additional lower body muscles, while getting a more intense workout. Weighing in at 230 lbs., the Schwinn 470 is a fairly durable and solid machine for under $900.
Schwinn Elliptical Warranties
The parts warranties on schwinn models is reasonable, coverage is 2-3 years parts and 1 year electronics. Where Schwinn is weak is their service warranties. The 411 only has 90-day coverage, but the low price can warrant purchasing an upgrade warranty.
Our Review
My overall impression is that Schwinn offers some of the best value for ellipticals under $1,000. I believe the Schwinn A40 is an excellent value for under $600. Although, you must realize the limitations of machines in this price range.
If you plan to use your elliptical extensively, have multiple users, are over 6′ and/or weigh over 200 lbs, you may want to upgrade to NordicTrack SpaceSaver SE71.
Individual Schwinn Elliptical Reviews: