(Last Updated On: October 23, 2017)
Comparing Two Very Popular Brands |  Written By Fred Waters
I constantly get asked which is better – NordicTrack elliptical trainers vs Sole elliptical trainers.  Or, I get asked if a specific NordicTrack elliptical is better than a particular Sole elliptical.  The answer is not so cut and dry. 
It should be mentioned that NordicTrack and Sole are the two leading manufacturers of elliptical trainers in the U.S.A.  Besides selling huge numbers on the Internet you will find NordicTrack ellipticals in Sears and Sole ellipticals in Dick's Sporting Goods.
Sole Elliptical Trainers – The Benefits
I've been a big fan of both Sole elliptical trainers and treadmills for a number of years.  In fact, I have owned a Sole elliptical.  Their primary focus is to build the most reliable residential elliptical trainers on the market, and for the most part they have succeeded.  Their machines are known for reliability and I can attest after 7 years he has had no issues with my Sole elliptical.   
Their machines are all front wheel drive where the flywheel is in the front.  These are some of the features that make these machines exceptional buys…
Heavy Flywheels
The flywheels vary from the least expensive model at 20 lbs. to their commercial grade models at 35 lbs.  What this means to you is you get a motion that is smooth and natural.  With many other brands you get an elliptical with a lite weight flywheel that gives you a jerky motion.  With Sole it takes an effort to start the motion and when you stop the motion gradually stop.  This is what you want.
Heavy Weight Machines
The Sole elliptical trainers are some of the most stable and solid residential elliptical that you will find.  The machine weight varies from 212 lbs. to 249 lbs.  This is the kind of weight you will find on commercial grade ellipticals and it guarantees that even extremely heavy users will find a Sole elliptical stable.
Dual Rails
Each pedal runs on two railings, which insures the stability of your stride, even after years of use.  I found that with some ellipticals trainers the pedals loosen up after years of use.
Adjustable Foot Pedals
On most of the Sole ellipticals you have the ability to adjust the foot pedals.  This allows you to angle the pedal to your comfort zone and reduces foot lift and numbness. 
All Sole ellipticals includes Bluetooth technology.  The user can transfer workout data from their Sole elliptical to their smart device.  Users can track their fitness info on the Sole app, or have their data transferred to other compatible fitness apps.  This allows you to track your progress, which often compels users to achieve their fitness goals.
NordicTrack Elliptical Trainers – The Benefits
First, it should be noted that NordicTrack has an array of traditional elliptical trainers.  The current count is nine with four front drive, two rear drive and three center drive (A.C.T.) elliptical machines.  Depending on your preference, there is a machine right for you.
In addition, NordicTrack offers the innovative FreeStrider, which is a hybrid between a stepper, treadmill and elliptical trainer. The FreeStride Trainer comes with a variable 38″ stride. You can simulate exercising on a stair stepper, elliptical or treadmill. The design gives a more intense workout that allows you to target more lower body muscles.  What makes the FreeStrider so unique is that you define the motion not the machine.  So you can go from short stair stepper strides to long sprinting strides and in the process you are able to target different muscles groups. These types of machines are very popular in health clubs, and now NordicTrack makes them available for your home. Since their launch the NordicTrack FreeStrider has become their hottest sellers starting at $1,999.
Technological innovation is really what has distinguished NordicTrack from their competitors.  They invest considerable resources into technology.  Most of their ellipticals and FreeStriders come with full color, touch screen displays that can also access the Internet.  You will not find this on other brands. 
However, what really separates NordicTrack from the pack is their patented iFit technology.  There is an additional cost for iFit, but for that cost you get the following.
Customized Workouts
You have the ability to create daily customized workouts based on your fitness goals like losing weight.   These workouts are designed to be progressive with the intensity increasing as you become more fit.
iFit Wearable for Fitness Tracking
Includes an iFit wearable for on-the-go tracking that can be used on and off  your NordicTrack elliptical trainer or FreeStrider. This allows you to track all your physical activity throughout the day and record your daily activities.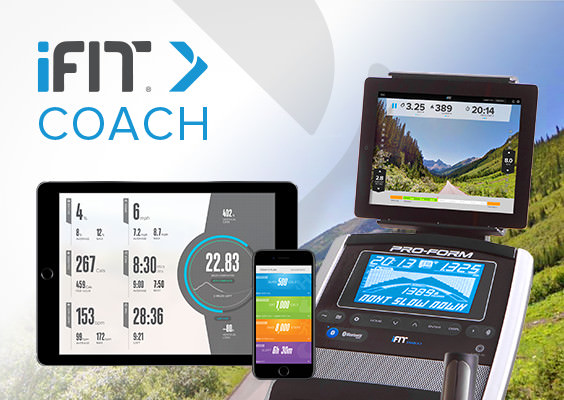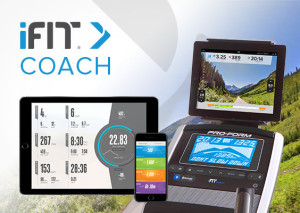 Virtual Workouts on Full Color Display
You get access to an extensive library of virtual workouts that you can view on the full color display.  For example, you can walk the beaches of Hawaii, or hike the mountains of Switzerland, and in the process you get audio coaching.   What makes iFit virtual training so impressive is that your machine will mimic the terrain of the video by increasing the resistance. 
Meal & Sleep Recommendations
Provides recommendations for custom meals based on your calorie burn.  I'm sure it is not Big Macs. Your iFit interface also offers expert advice for better sleeping.
Workout Tracking Tools
You are able to track your workouts and your progress with helpful charts and stats.  Studies show that individuals that track their workouts are more likely to achieve their fitness goals.
NordicTrack Ellipticals vs Sole Ellipticals – Which is Better?
I have a both a Sole elliptical and a NordicTrack treadmill and have been very satisfied with both.  Neither has required any service other than lubrication. 
So which brand is a better cross trainer?  It depends on your budget and your needs. 
I would recommend Sole ellipticals for individuals who want an elliptical that is the least likely to need any service.  Sole has built their reputation on manufacturing the most durable exercise equipment in their price range.  These machines are built to be abused and are best for multiple users and very heavy users. 
NordicTrack ellipticals may not be quite as durable as Sole ellipticals, but they run a close second.  The vast majority of their customers are quite satisfied with their machine's performance. 
However, it is the technology that makes NordicTrack cross trainers a stand-out.  If you are looking for a cardio machine that will provide a great workout, and will entertain and motivate in the process, then you want to check out NordicTrack.  Personally, I am one who just listens to music while I workout on my elliptical trainer, but countless NordicTrack customers love the interaction of iFit technology and how it is displayed on the interactive color monitor. 
Conclusion – Which Should You Buy?
So the choice is between the most durable (Sole) vs. the most technologically interactive (NordicTrack).  Either is an excellent choice.
Learn more about our top rated brands or check out our Best Buy Elliptical list!