Bring Your Fitness Home… Affordably!
What makes the Carbon EX elliptical so attractive to buyers? The Carbon EX is a slight upgrade from it's sibling in the Carbon series, the Carbon EL elliptical.
Both of these machines are great options for budget ellipticals, but the EX has some awesome features that we don't see often on machines in this price range such as a full-color display screen, and a roomy 19″ power adjustable stride. The Carbon EX also comes iFit enabled.
Another reason the Carbon EX is a great choice is that it's in stock. Due to increased demand with COVID-19, we are seeing many ellipticals out of stocks for months, particularly in this affordable price range. An example of the demand for $999 ellipticals is the popular Sole E25. According to the Sole website, estimated arrival of the Sole E25 after purchase is 60 days.
ProForm has a great reputation in the fitness world, and for a good reason. It's parent company, a manufacturer known as Icon Fitness, is one of the biggest fitness equipment manufacturers in the world. They are known for producing high quality fitness equipment.
Although the Carbon EX is offered at a budget price point, don't let it fool you. Coming from a brand like ProForm, you are sure to get a solid piece of equipment.
Check out a comparison chart of all ProForm ellipticals here.
ProForm Carbon EX Features
20° Power Adjustable Ramp – Adjust your incline up to 20 degrees to target a variety of muscles during your workout.
6″ High Contrast Display – A full color, high-contrast display screen is a great feature on an elliptical at this price point. It's slightly bigger than the 5″ screen on the Carbon EL.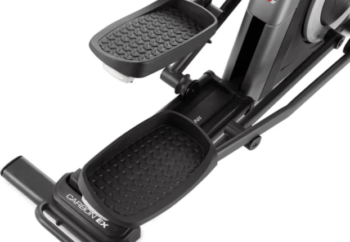 19″ Power Adjustable Stride – The stride on the Carbon EX can be re positioned to find the best fit and most comfortable fit for you.
20 lb. Flywheel – A heavier flywheel will give a smoother feel during your workout. This is a great feature for the price point, and 5 lbs. heavier than the Carbon EL.
Warranty – Consists of 10-year frame, 2-year parts and 1-year labor. This is a good warranty for this price.
Front Drive Design – The Carbon EX features a front drive design. Learn more about Front Drive vs. Rear Drive in our article here.
20 Resistance Levels – 20 SMR™ (Silent Magnetic Resistance) digital resistance levels will help you progress during your workout while keeping your noise levels down.
iFit Ready – iFit is a training technology from Icon Fitness (ProForm and NordicTrack). iFit offers interactive training sessions, fitness tracking, and workout classes. The Carbon EX elliptical comes iFit enabled, however you will have to pay an additional monthly fee for an iFit subscription, which is usually around $40/month. If you want an elliptical with iFit already included in the price, you may want to check out the ProForm Carbon E7 elliptical. The E7 comes with 3-year iFit subscription included in the price of the machine.
Other Features…
Soft Touch Upper Body Grips
EKG Grip Pulse Sensor
Adjustable Oversized Cushioned Pedals
Audio Auxiliary Port with (2) 2″ Speakers
Tablet Holder
Water Bottle Holder
Note: The weight capacity on the ProForm Carbon EX is 325 lbs.
Our Review – ProForm Carbon EX Elliptical Trainer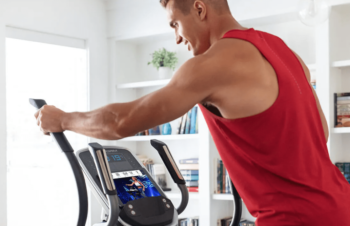 The ProForm Carbon EX elliptical has great features for the price point. Although iFit technology is not included with this machine, you can still get great, diverse workouts with features like adjustable ramp, and many resistance levels.
The Carbon EX does not come stocked with a ton of extras that you may find on pricier machines, but it does have the basics that you need to get an effective workout in the comfort of your own home. If you are looking for an affordable machine to up your fitness routine, look no further than the ProForm Carbon EX.
Note: Fully assembled dimensions are 25" W x 68.5" D x 67.75" H.
Learn more at www.proform.com/ellipticals.