Brand New for 2022!
ProForm is a well-established brand in the fitness equipment industry. These ellipticals are made by ICON, which is the fitness manufacturer that also makes the popular NordicTrack ellipticals. We are consistently impressed with the machines that we see released from ProForm. Throughout the years and during our several visits to the corporate headquarters in Logan, UT, we have seen ProForm produce equipment that is safe, effective, durable, and technologically forward.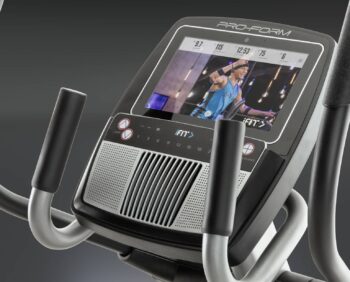 The latest elliptical release and brand new edition to their Carbon elliptical series is no different. The E10 elliptical is a great option for residential use. It comes loaded with features like a 10″ HD Touchscreen, good-sized flywheel, adjustable stride and ramp; as well as some extra 'fun' features such as a fan and nice speakers.
One of the most impressive features on all ProForm equipment is the interactive fitness technology known as iFit. iFit is allows users to access an ever-growing fitness platform that showcases both live and on-demand workouts. Even though a lot of people find cardio boring, particularly at home, iFit solves that problem.
This technology will give you a variety of workouts that are new and exciting so that you're never dreading your upcoming workout. It will also help keep you motivated and accountable with features like a community leaderboard, and connected fitness tracking.
Now you may be wondering, what makes the E10 different than the rest of the ellipticals in the Carbon series? Keep reading to learn more about the specs on this machine.
ProForm Carbon E10 Elliptical Trainer Features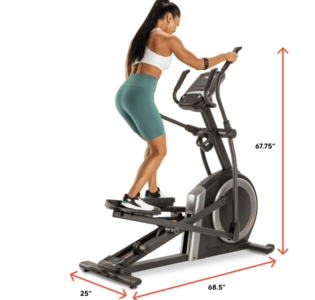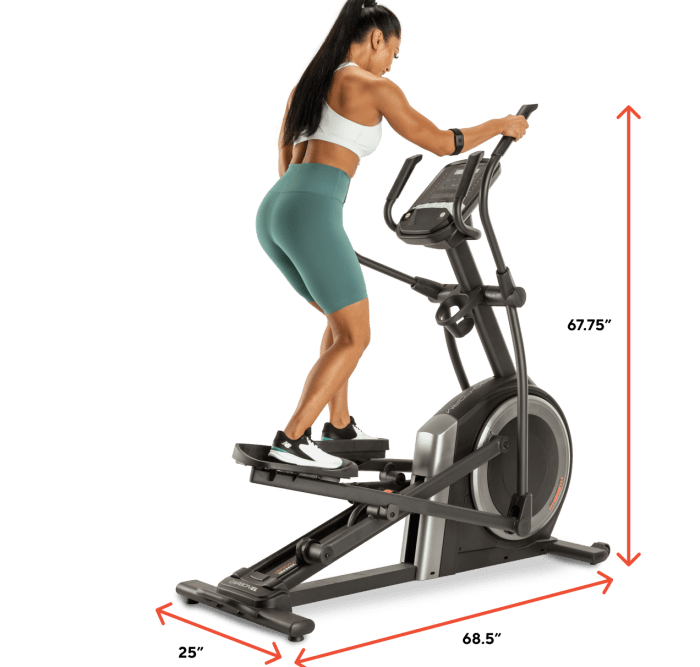 Front-Drive Design – A front drive elliptical is a more compact option than a rear-drive design. This will be a nice feature if you live in an apartment, small space, or have roommates that won't want a big bulky elliptical in your shared living space. The dimensions on the Carbon E10 are 25″ W x 68.5″ D x 67.75″ H.
25 lb. Flywheel –  A 25 lb. flywheel is nothing to shake a stick at. A heavy flywheel on an elliptical translates to a smoother and quieter workout. Basically, the heavier the flywheel on an elliptical, the better in terms of stability and safety. A heavier flywheel makes your elliptical feel more stable and secure while in motion. Honestly, this flywheel is heavier than we'd expect to see on an elliptical priced around $1,000.
Stride – A 19" Power Adjustable stride is a full-length stride that will be sufficient for most users.
24 Resistance Levels – 24 levels of resistance will allow you to push yourself to your limits during exercise. If you only have a short time to fit in a workout but want to get your heart pumping, crank up that resistance to get a good sweat in. The wide range of resistance levels will allow you to max out your effort levels, and take advantage of challenging iFit workouts as well.
0-20 Degree Power Adjustable Ramp – An adjustable ramp, or "incline" on your elliptical will take your workouts to another level. You can use this feature to shift the shape of your stride, which will change up the muscle groups that are being used during your workouts. This will boost caloric burn and enhance muscle building.
Comfort Features – Performance features are the most important feature on fitness equipment. However, it's also important when you're investing in an elliptical that you will feel comfortable with the extra comfort features as well. ProForm has you covered with comfort features like a 10″ Smart HD Touchscreen, adjustable, oversized, cushioned pedals, water bottle holder, a CoolAire fan and dual 2" Bluetooth speakers.
iFit Interactive Programming – If you've looked for fitness equipment, you have probably heard of iFit as you were researching and browsing. But, what exactly does iFit offer? Take a look…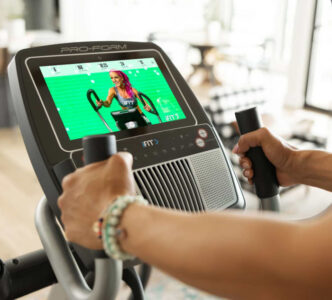 Interactive Trainers – During live workouts, your trainer is able to adjust your resistance and incline levels for you. This will keep you focused on what's happening in the class, and leave the setting changes up to them. You'll be able to match the pace of the workout automatically and stay in your zone. 
Global and Studio Class Options  – One of the cons of working out on an elliptical is that it can be boring. Let's face it… Staring at the four walls of your living room isn't the most exciting scenery location. With iFit, you can take advantage of the standard studio classes. BUT, you can also choose to take one of their global workout classes. This will allow you to take your workout scenery to anywhere in the globe. Talk about a fun elliptical workout!
Fitness Tracking – iFit technology keeps track of your workouts for you. Not only do you have access to view which classes that you have taken, but you can keep track of your workout stats. Take advantage of viewing your progress so that you can stay motivated and stay on track.
*Note: At the time of this review, ProForm is offering a 30-day free trial to iFit. After the trial is over, it's a monthly fee of $39 to continue your membership.
Warranty – The warranty on the Carbon E10 elliptical is 10-year frame, 2-year parts, and 1-year labor.
Our Review — ProForm Carbon E7 Elliptical Trainer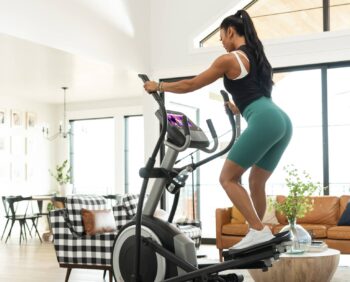 ProForm is continually changing the way that consumers are able to workout at a residential level. With upgraded technology like iFit and new and improved machine specs, we are seeing that their brand and other brands like NordicTrack are allowing consumers to bring commercial grade fitness equipment into their homes.
Compared to the other ellipticals in the Carbon series, the Carbon EL and the Carbon E7 – the Carbon E10 comes is the most feature-rich for the price. If you're looking for an elliptical from the Carbon series, the E10 is the best "bang for your buck" at the $1,000 – $1,500 price range.
However, if you do plan to keep your iFit membership after the 30-day trial expires, you may want to take the Carbon E7 into consideration. The E7 is known as the FREE elliptical, because it's free with the purchase of a 3-year subscription to iFit. So, if you are confident that you'll keep using iFit, the E7 might be a better fit for you.
Learn more at www.proform.com/ellipticals.*