Adjust the Stride Length to your Comfort Zone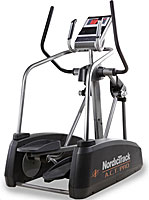 The NordicTrack A.C.T Commercial center drive elliptical trainer has been to be so popular NordicTrack has released two upgraded versions.  Since then, this particular model has been discontinued.  We recommend you check out the ACT Commercial and ACT Commercial 10.
In addition to the numerous benefits of the A.C.T. design, the NordicTrack A.C.T. Commercial 7 elliptical trainer offered a full color display with an Android browser.
NordicTrack A.C.T. Commercial 7 Features
18″-22″ Adjustable Stride — It's important for each user to be on an elliptical with the proper stride length for their body.  An adjustable stride is extremely useful so each user can workout in their comfort zone.  Plus, once you've found your ideal stride length, you can switch the length slightly to work different muscles in your lower body.
Compact Design — Elliptical trainers can be space hogs. Some models have very long lengths, particularly front wheel designs. Of course, there are some very compact rear wheel designs, but they are usually cheap models that are not very stable. The center design condenses the mechanics and results in a machine that is only 47″ long. In comparison, the Sole E95 is 82″ in length. The A.C.T. Commercial 7 is ideal for apartment and condo dwellers.
Very Stable — Unless you get a very heavy model, many elliptical trainers are not that stable. Many traditional models tend to rock if you're really going hard.  The ACT Commercial models sit on a square base and tend to be much more stable.
Level Motion — People in the elliptical world are used to arguing about whether the motion on a front drive or rear drive is better.  Now they need to add center drive to the conversation!  Here are a few points to consider:
First, the name says it all.  On a center drive elliptical you tend to be more centered over the motion.  With front drive machines, I feel like I'm leaning forward.  With a center drive, I feel balanced with a natural body position.
Second, a center drive elliptical tends to provide a more effective upper body workout.  When I workout on my front drive machine, my arms often go along for the ride.  With this center drive machine, I feel like my arms are forced to work a bit harder.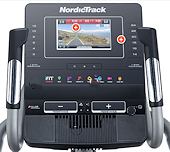 Full Color Android Browser Display — Scroll through your stats with the swipe of a finger, then go online while you workout. Read email, watch sports and peruse your favorite social networks.
iFit Live — iFit Live allows a 2-way communication between your elliptical and the Internet. All your workout data like distance run, time, calories burned, etc., is downloaded and tracked on your personal profile page on iFit.com. You also have these additional features…
With Google Maps™ you can map a route and the Commercial 7 with simulate the terrain by varying the resistance. You can watch your progress with the Android browser display.
Workout with Jillian Michaels. There are workout programs that you can download that include Jillian Michaels audio coaching.
Download workouts suited to your fitness goals. You input your desired goals and iFit Live will download workouts geared towards those goals. These workouts are design by certified personal trainers, are progressive, and include audio coaching.
Other features include a nutrition and activity tracker, motivating text messages and emails, and workout videos available for download.
This is the kind of feature that can push people to burn more calories and get into shape. Plus in breaks up the monotony of exercising in place. Note, there is an additional cost for iFit Live and it requires Wi-Fi.
35 Installed Workout Programs — NordicTrack generally offers a wide variety of programmed challenges with their machines.
Pedal Distance — Center Drive ellipticals have closely spaced pedals that work perfectly for women or those with a shorter stature.  On regular ellipticals, wide set pedals can cause hip pain after long use.
Cooling Fan — NordicTrack told us that their customers always ask about the fans! Their fans tend to be more effective than the competition.
Sound System — The sound systems that NordicTrack installs on their equipment is above average in comparison to other brands.
Warranty — The warranty is lifetime frame, 5-year parts and 2-year labor.
Our Review – NordicTrack A.C.T. Commercial 7 Elliptical Trainer
Being a center drive elliptical is what makes the NordicTrack A.C.T. Commercial 7 appealing. As mentioned above, there are a number of benefits to the center drive design, particularly the small footprint. Although the variable stride is a big plus.
What also makes the A.C.T. Commercial 7 worth considering is the iFit Live. This feature can be a great motivator for those who need an extra push to burn the calories. It also helps to break the monotony of exercising in place.
When priced right this elliptical is an attractive package.
Go to www.NordicTrackEllipticals.com to learn more.