Loaded with Features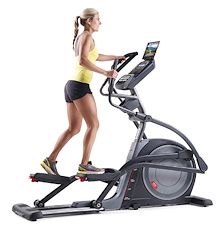 The ProForm PRO 16.0 NE elliptical trainer is loaded with the kinds of features that make ProForm ellipticals one of the best values in their price range. There are three reasons you should consider buying the ProForm PRO 16.0 NE…
It is very durable and solid.
It offers a very ergonomic workout.
It includes features designed to assist you in reaching your fitness goals.
ProForm is a subsidiary of Icon Fitness, which also builds NordicTrack elliptical trainers.  Icon Fitness is the largest fitness equipment manufacturer in the world by a wide margin.  Because of economy of scale they are able to out spec the competition and offer the most innovative features you will find on any elliptical trainer.
ProForm 16.0 NE Elliptical Trainer Features
32 Lb. Flywheel — This is one of the heavier flywheels that you will find on a residential elliptical trainer.  The benefits are you get a very smooth and natural elliptical motion.  You will find on cheaper models that the motion is jerky.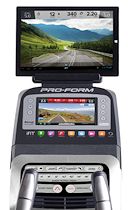 Full Color Touch Screen  Android Browser Display — The combination display and tablet is only found on Icon Fitness products.  Besides giving you vibrant feedback on your workout stats, you are also able to access the Internet through your Wi-Fi as you workout.
Tablet Holder — An inexpensive add on, but it allows you to position your tablet right at eye level. The photo on the right is with a tablet on the tablet holder.
iFit Live Compatible — iFit Live is a motivational technology designed to push you to achieve your fitness goals.  There are numerous features to iFit Live that include…
You can create custom workouts based on your fitness goals.  The workouts are progressive and include audio coaching.  With every workout your stats are downloaded onto your personal iFit.com account so you can track your progress through the reporting and charts. Tracking your progress is proven to assist people in achieving their goals.
Simulate exercising outdoors with Google Maps.  You can track routes on Google Maps and through the incline feature the ProForm 16.0 NE elliptical trainer will simulate the terrain.  You can watch your progress on Google Maps.
Simulate exercising outdoors with videos.  iFit Live has a library of videos of famous landscapes from around the world. Like the Google Maps feature the ProForm 16.0 NE will simulate the terrain and will sync with your speed.
Note: There is an additional cost for iFit Live.
40 Installed Workout Programs — There is a generous selection of exercise routines that focus on different fitness goals like weight loss and interval training.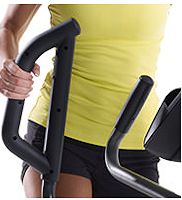 Multi-Grip Handlebars — The multi grip handle bars let you change up your upper body workout allowing you to target different upper body muscles.
Speakers & iPod Input — You'll find speakers on most ellipticals over $1,000, but often the quality sucks.  ProForm has some of the better sound systems on their machines.  There is also a fan in the console.
Easy Assembly — This is a feature that should be appealing if you plan to assemble the ProForm 16.0 NE yourself.  There are three steps to assemble so you can get your elliptical up and running.  I've spent as much as 2 hours assembling an elliptical trainer.
Very Heavy Weight — ProForm does not list the weight of the ProForm 16.0 NE elliptical trainer and I am not sure why.  But from my experience in testing the machine I can tell you it is way over 200 lbs.  What that means is it will be rock solid no matter how aggressive you workout, unless you are a sumo wrestler.  However, it also means it is hard to move.  Be aware that the free delivery is to the curb, so you may want to consider the indoor delivery option.
Adjustable Foot Pedals — They don't mention this feature on the product page, but I am certain this was a feature when I tested the model.  By adjusting the foot pedals you can configure to your comfort level and reduce foot lift.
Extensive Warranty — I mentioned at the beginning that the ProForm 16.0 NE elliptical is a durable machine and the warranty reinforces that claim.  You get the longest warranty coverage for any elliptical in this price range – lifetime frame, 6 years parts and 2 years labor.
Check out a comparison of all ProForm Ellipticals here.
Our Review — ProForm 16.0 NE Elliptical Trainer
With the ProForm 16.0 NE you are not just buying an elliptical trainer, you are buying a total package.  Besides getting an elliptical trainer that provides a rewarding workout, you are getting a machine that will motivate and entertain you.  This decreases the chances that your elliptical will end up being an expensive clothes hanger.   There are more durable elliptical trainers, but they cost much more, however there are not any ellipticals that offer so many features at any price (Except the comparable NordicTrack E 16.9).
Learn more at www.proform.com/treadmills.