A New Concept in CrossTraining – Define Your Own Motion and Exercise!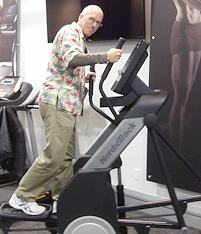 Freestride Trainer FS5i is the entry model of the FreeStride Trainers, a technological and ergonomic breakthrough in cross training. This unique machine design allows for free style and variable motion, which allows for several advantages over the typical elliptical.
The FS5i acts like a combination of stair stepper, elliptical trainer, and treadmill so you can work various low body muscles. This motion provides "muscle confusion" resulting in a much more effective workout.
We like this model, but feel your money would be better spent on the FS7i or FS9i models that include a longer stride length, heavier flywheels, the ability to adjust incline and more impressive interactive full color display consoles. However, if your budget is limited the NordicTrack FreeStride Trainer FS5i is still impressive.
Changes for the 2019 FS5i model…
NordicTrack has made the following changes on the FS5i for the 2019 season. It now has a smaller 5″ backlit display and a 3-year parts warranty. Other than that, things are staying pretty much the same. We definitely recommend you take advantage of the lower pricing on the older machine while it lasts!
Exercise Features – FreeStride Trainer FS5i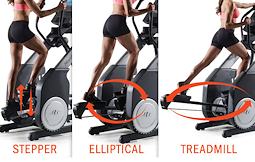 Variable Motion —The NordicTrack FreeStride Trainer FS5i allows you to define an ergonomic stride path of your own rather than being confined to a set pattern. This prevents your body from adjusting to the exercise so you can cause "muscle confusion." The motion combines the benefits of a stair stepper, treadmill, and elliptical, working a variety of lower body muscles. The stride length on this machine is 32″ compared to 38″ on the FS7i and FS9i models.
Upper Body Workout —Like on an elliptical, handlebars allow you to exercise your upper body. The FS5i has integrated handle controls for ramp and resistance built into the handle bars so you can adjust your workout without breaking stride.
iFit Live is an innovative technology only available from NordicTrack and its sister companies. A paid subscription is required for this service.
Features include…
Customized Workouts – With iFit Coach you have the ability to create daily customized workouts based on your fitness goals. These workouts can be progressive and increase with intensity as you improve. The workouts include verbal coaching.
Get daily livecast fitness classes. Follow your favorite professional trainers as they lead you through intense cross-training exercises.
Included is a iFit wearable for on-the-go tracking that can be used on and off the incline trainer. This allows you to track all your physical activity throughout the day.
You have access to an extensive library of virtual workouts that you can view on the full color display. For example, you can walk the beaches of Hawaii, or hike the mountains of Switzerland, and in the process you get audio coaching. What makes iFit virtual training so impressive is that your resistance on the FS5i will mimic the terrain of the video.
Custom Meal Recommendations – Provides recommendations for custom meals based on your calorie burn
Get expert advice for better sleep
Track your workouts and your progress with helpful charts and stats. Studies show that individuals that track their workouts are more likely to achieve their fitness goals.
Mechanical Features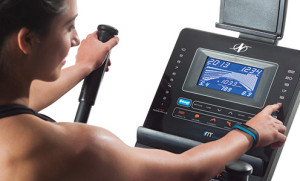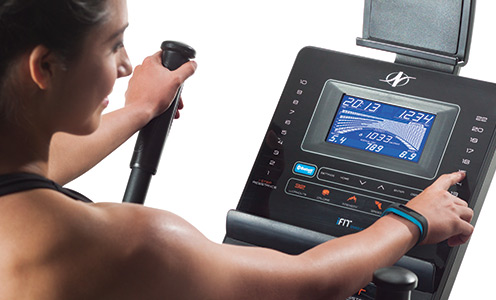 Oversized Cushion Pedals – Extra long and extra wide pedals with grooved cushioning are great for a relaxed and stable foot grip.
OneTouch Console Controls – The console is well designed and allows you to switch between 22 resistance programs.
5″ Backlit Display – This is nothing too exciting but it works fine. If you are interested in a web enabled color touchscreen, you'll need to spend more money on the FS7i or the FS9i machines.
16 Lb. Flywheel — A heavier flywheel gives the motion a smooth and natural feel. This is one of the areas where the FS5i and FS7i differ. The FS7i has a 20 lb flywheel.
Center Drive — This design reduces the frame size to half the size of a typical elliptical. It also creates greater stability. The FreeStride Trainer FS5i is 68″ compared to a machine like the Sole E95 elliptical that is 83″.
Incline – The FS5i does not have any incline feature. If you want to incline from 0 to 10%, check out the FS7i. Or incline AND decline -10% to 10% with the FS9i model.
Other Features Include…
Water bottle holder
Transport wheels
Lifetime frame, 3-year parts and 2-year labor warranty.
Our Review – NordicTrack FreeStride Trainer FS5i
There's no doubt that the NordicTrack FreeStride Trainer series have some fantastic benefits over typical ellipticals. The unique motion targets more muscles in the lower body providing an effective workout. Plus, the smaller footprint takes up less space in your home and the iFit technology provides great motivation and fitness tracking.
While this is a great machine, it might be worthwhile to spend around $500 more for the FS7i. You will be getting an incline feature, heavier 20 lb flywheel, and 7″ Web-Enabled Color Touchscreen. Plus, the stride on the FS7i machine extends 6″ farther for a 38″ length.
As for which specific model is better … you should definitely take a look at the FreeStride Trainer FS7i and FreeStride Trainer FS9i. They each offer slightly different features at various prices. Depending on the current sales that are going on, you can even find one of these higher models listed at a lower price!
Go to www.NordicTrack.com and learn more!
The video below was short recently at NordicTrack Headquarters by our Team