Be Cautious with this Company…
Yowza was a small company located in Florida that used to be at the top of our recommendation lists.  However, lately, we've noticed some troubling things from Yowza.  It seems like the company wasn't what it used to be and we no longer felt confident in recommending their products.  Now, it seems, they've gone completely OUT OF BUSINESS.  You'd be better off going with a more stable brand like NordicTrack, ProForm, Sole, or Bowflex.
The Yowza Elliptical was manufactured in Taiwan, which is a very important factor as it's where most high-end elliptical trainers are now built. Practically all fitness equipment is now built overseas, primarily in China and Taiwan. However, there tends to be a real difference between the quality control of the two locations.
Yowza Elliptical Reviews
Select Yowza Ellipticals were fitted with the Cardio Core Training which specifically targets, strengthens and trims your stomach muscles. Pick a model below with the to be sure you get a full body work out
Yowza Miami – $2,799
Included Features: Cardio Core Training, Variable Motion, Bluetooth & Intelligent Weight Management

Yowza Navarre Elite  – $2,599
Included Features: This is a Hybrid Exercise Bike & Elliptical w/ Intelligent Weight Management and Cardio SureTraining

Yowza Jupiter Plus– $1,299
Included Features: Surefit pedals, Variable Incline, Cardio Sure

Yowza Sanibel – $1,699
Included Features: Cardio Core Training

Yowza Pompano $949
Included Features: Cardio Core Training

Yowza Jupiter Pilot – $999
This machine has a 18″-22″ Stride

Yowza Captiva – $1,899
Included Features: Cardio Core Training & Variable Motion

Yowza Naples Plus – $2,399
This is a Hybrid Exercise Bike & Elliptical

Yowza Naples Elite – $2,599
This is a Hybrid Exercise Bike & Elliptical w/ Intelligent Weight Management
---
Learn about the patented Cardio Core Training and the Variable Stride technology.
Cardio Core Training

What has really distinguished a Yowza Elliptical from the competition is their innovative Cardio Core technology. They refer to it as a counter rotational core motion. Unlike the usual upper body handlebars that go back and forth with the elliptical motion, you have a two T-shape handlebars that swing left and right with the pedal motion. This simulates a twisting motion as you work out and seriously targets your stomach muscles.
Most elliptical trainer manufacturers claim their machines work both the upper and lower body. This is just NOT true. The majority of the resistance is absorbed by the lower body, while the upper body goes along for the ride.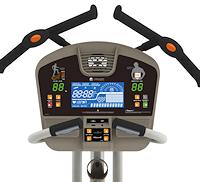 With the Cardio Core design the motion is similar to doing stomach crunches on the ground. You really feel it in your abs.
This is one one of the only ellipticals available that actually works your upper and lower body. AND it's the only crosstrainer that specifically targets, strengthens and trims your stomach muscles!
When I first used the Cardio Core feature it felt a bit awkward, since I'm used to the typical dual handlebar motion. However, after awhile I got into the swing of the counter rotational motion and found my rhythm. Now, if I owned one of these machines, I probably would alternate between using the Cardio Core handlebars and using the stationary handlebars. I'm not sure you can maintain the Cardio Core handlebars for extended periods unless you look like the model on their site!
Over the last couple of years the ellipticals with the Cardio Core Training has been their hottest selling items. In fact, Joe Alter, President of Yowza recently said they've sold around 10,000 units with Cardio Core and that they make up about 95% of their sales.
Considering you cannot go to a local store and try out these ellipticals, I asked if there have been any people that were dissatisfied with the Cardio Core feature. Since it's such a different motion than people are used to. Joe mentioned that customers have been overwhelmingly positive about this new technology. You can find the Cardio Core training on the following models:
Variable Motion
With the Variable Motion feature you have 12 different motions that start at 18″, and depending on the model, increase up to 32″. As you move up the levels of motion you go from a standard elliptical stride to a motion that forces you to raise your legs. There are a number of benefits to the Variable Motion:
The higher the level the more intense of a cardio workout you get.
It breaks-up the repetitive motion you typically get reducing strain on joints.
It allows you to target different lower body muscles.
It accommodates users of different size and height.
It capitalizes on the muscle confusion theory. Changing the shape and intensity of the motion helps to prevent your body from getting acclimated to any one particular motion.
You can find the Variable Motion feature on the following models:
Other Features
Rear Drive Design — There is a controversy over which is a better design – front or rear.  The advantage to the rear drive design is that there are less moving parts.  One of the disadvantages of a front design is that the pedals run on wheels over railings.  The wheels can wear and the railings can rust resulting in obnoxious noises.  I lubricate my front drive elliptical regularly.
Sure Fit Pedals — The Yowza Elliptical has a unique sure fit pedal design, which not only pivots with the motion, but it has a rubber shock absorption to minimize the impact. This is a really great pedal!
Built-in Fan — The fans are directed at your core where they can do the most good.
Speakers and either iPod Docking Station or BlueTooth — Speakers with MP3 input is becoming standard on elliptical trainers, although many manufacturers use very cheap components and drivers. Joe Alter made it a point to tell me that they installed quality products in their sound system. The Yowza Miami utilizes Bluetooth 4.0.
Sealed Bearings — The Yowza elliptical has a sealed bearing at the pivotal points. There are no bushings, which are more likely to wear out.
Sold Factory Direct — I know, countless manufacturers claim to sell factory direct and they do.  The problem is they also sell through third parties, like large sporting goods chains or fitness specialty stores. Consequently, they cannot undersell their retailers. And the retailers have to set a price that covers the cost of the machine, their overhead and provides a profit. Yowza is a pure play factory direct seller. They only sell through the Internet and directly to the end user.
New! Hybrid Exercise Bike and Elliptical Trainer — For those that have trouble standing while exercising or struggle with an elliptical, Yowza developed the Naples. This machine allows you to site and still get an intense workout and includes the cardio training. See our complete review.
Our Review of the Yowza Elliptical
Back when I went out to see the new line-up of Yowza ellipticals, I was expecting to see your typical run of the mill machines. However, what I saw was a series of ellipticals that were as good, and often better in quality than the competition. More importantly, I saw innovative features that were very exciting and appealing.
In the four years that Yowza Fitness has been selling ellipticals, their products have had a very impressive service record. While their models with the Cardio Core Training have proven to be very successful and popular with their customers.
However, recent issues with the company make us question the service you'll receive from Yowza now-a-days.  You would be better off going a more stable brand like NordicTrack, ProForm, Sole, or Bowflex.