The Evolve 5 is Designed Around the Best User Experience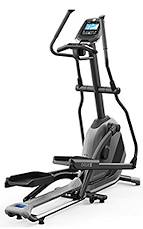 Horizon Fitness released four new elliptical trainers.  Most we feel are a hit, but we are not crazy about the Horizon Fitness Evolve 5 elliptical trainer.  We do like some of the ergonomic features and the interactive options.  However, we feel for what you get, it is a bit pricey.
This machine comes from the same company that produces Vision Fitness and Matrix Fitness.  Let's review the pros and cons of the Horizon Evolve 5. (By the way – you may be interested in checking out the Horizon Evolve 3 too.)
Horizon Fitness Evolve 5 Pros
Ergonomic Design with Simple Assembly — Horizon did extensive research on what appeals to potential elliptical trainer customers and came up with their SixStar Certification.  This includes:
The pedals are close together  to minimize stress to your joints.  We often get inquiries from readers, typically women, looking for an elliptical trainer that has pedals almost touching each other.
Low pedal height to make it easy to step up and down.  This is particularly appealing to older users and very heavy users.
Upright user positioning. One of the drawbacks with a front drive elliptical is that you tend to lean forward. With the Horizon Evolve 5 elliptical your stance is more upright like you were walking or running.
The handgrips are positioned to also maintain an upright stance.
The Horizon Evolve 3 is designed with a natural foot path that mimics walking on air.  You will find on cheaper models you have a more bouncy elliptical stride.
23 Lbs. Flywheel — The heavy flywheel give a very natural elliptical motion.  It is apparent when you start and stop.  It takes an effort to get the motion moving and it gradually slows down.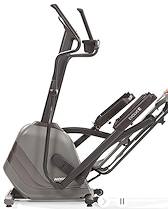 Folding Mechanism — You can fold the Horizon Fitness Evolve 5 elliptical so that it takes up only 28" in length. If space is a premium, this is an excellent feature.
ViaFit — Many manufacturers are moving towards a more interactive workout with their elliptical trainer.  The Horizon Fitness Evolve 5 is equipped with ViaFit, which allows you to track your stats and progress online.  In addition, with the ViaFit app you can define fitness goals like number of workouts, calories burned, amount of time exercising or total distance and track your progress towards those goals.
Studies have shown that those individuals that track their progress are more likely to achieve their fitness goals. And in fact, tracking software, particularly on smartphones is becoming very popular. It kind of gives you a guilt trip if you are slacking. One last feature, which I feel rocks, is that ViaFit allows you to import statistics from other popular fitness, nutrition and weight loss apps, so you have a central locations for storing and viewing your health stats.   What makes this feature most attractive is that there is no extra charge.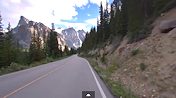 Passport — For an additional cost you can get the hardware and software to simulate and visualize running outdoors.  Your Horizon Evolve 5 elliptical trainer can connect to your TV and provide high-definition destination footage displayed on your large screen which is synced to the speed and intensity of your workout. There is a library of walking and running experiences through famous landscapes like National Parks and seashores.
37 Installed Workout Programs — The Evolve 5 has a wide selection of challenging workouts that include 1 manual, 13 distance, 9 calories, 3 intervals, 4 performance, 10 step and 2 custom.
See a complete comparison chart of Horizon Ellipticals here.
Horizon Fitness Evolve 5 Cons
Single Rail Per Pedal — In the past the single rail design on Horizon Fitness elliptical trainers was a major flaw.  Often the floor models we would test would have the pedals fall off the railing.  Of course, the floor models go through major abuse.  The current design is a major improvement and under normal use should maintain a high degree of stability.  However, for a couple of hundred dollars less you can get the Sole E35 with a dual rail system.
We also have a concern about the folding mechanism and how that impacts the long-term stability of the elliptical motion.
Warranty — The Horizon Fitness Evolve 5 comes with a 3-years parts and 1-year labor warranty.  The majority of elliptical trainers at this price range have a 5-year parts and 2-year labor warranty.
Machine Weight — The Horizon Fitness Evolve 5 elliptical weighs 181 lbs., which will provide a very stable feel for most users.  You will find other models in this price to be heavier.  For example, the Sole E35 weighs 215 lbs., and it is rock solid.
Review – Horizon Fitness Evolve 5 Elliptical Trainer
Maybe because it is Monday we are being picky.  Overall, the Horizon Evolve 5 has pros that significantly outweigh the cons and overall it is a good value.
However, you may want to compare it to NordicTrack or Sole ellipticals in this price range.  The NordicTrack models will have more impressive interactive features. (There is an additional cost for the features by the way).  The Sole ellipticals appear to be more durable (though they lack interactive features).  We feel the Horizon Elite E9 and E7 models are a better buy.